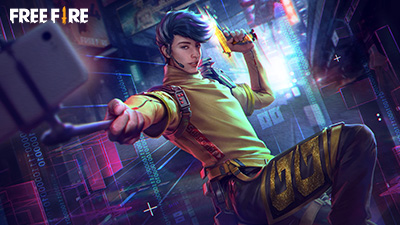 If you might have noticed, Garena Free Fire PC is yet again sporting another additional name because of its newest OB25 patch which is also called "Operation Chrono". Like all Garena Free Fire updates, this patch has something fun in store for everyone. Apart from the usual rebalancing, bugs fixing; there is also a special reward and a super exciting collaboration between the game and a famous figure in sports.
The first thing that players should know about OB25 is that the setting has become futuristic dystopian in theme and Operation Chrono takes place in an urban slum area with advanced technology. This new update almost seems like an emulation of the much-awaited and newly released futuristic dystopian game Cyberpunk 2077. So, without much ado, here are the new and exciting updates of the OB25 – Operation Chrono patch. If Garena Free Fire PC is already in your list of 'must-try games', then download it on Games.LOL.
•
free fire pc
In the newest season of Clash Squad, players that are able to reach Gold III will be awarded with the Golden P90. The Golden P90 is basically a glittery P90. Its aesthetics consist of a gold layout, black flames in the underside, and an embossed skull icon. Apart from the prized weapon, Clash Squad Season 4 was also enhanced in the matchmaking aspect. Basically, pre-made teams will only be matched against pre-made teams.
• New Weapon
The newest weapon in Garena Free Fire will also be the first ever weapon of its category which probably means more of the same type of weapon will be released soon enough! The Vector Akimbo is a short range submachine gun with a damage of 22, 30 magazines, and a 0.08 rate of fire. Akimbo weapons in Garena Free Fire are dual-handed weapons. This gives a significant boost when it comes to close and mid-ranged fights.
•
free fire download
Updates
For those who have been calling for a Fire Pass update, your lucky day is now! A new user interface has been given to players with a Fire Pass; specifically, giving them a better view of their progress during missions. Also, instead of veteran and elite missions, weekly missions will be the new thing of norm.
• New Collaboration
By far the most update in this patch is the partnership between Garena Free Fire and football superstar Cristiano Ronaldo. Ronaldo is the star of this patch and his character is called Chrono. Ronaldo, or Chrono, is a playable character for this patch.